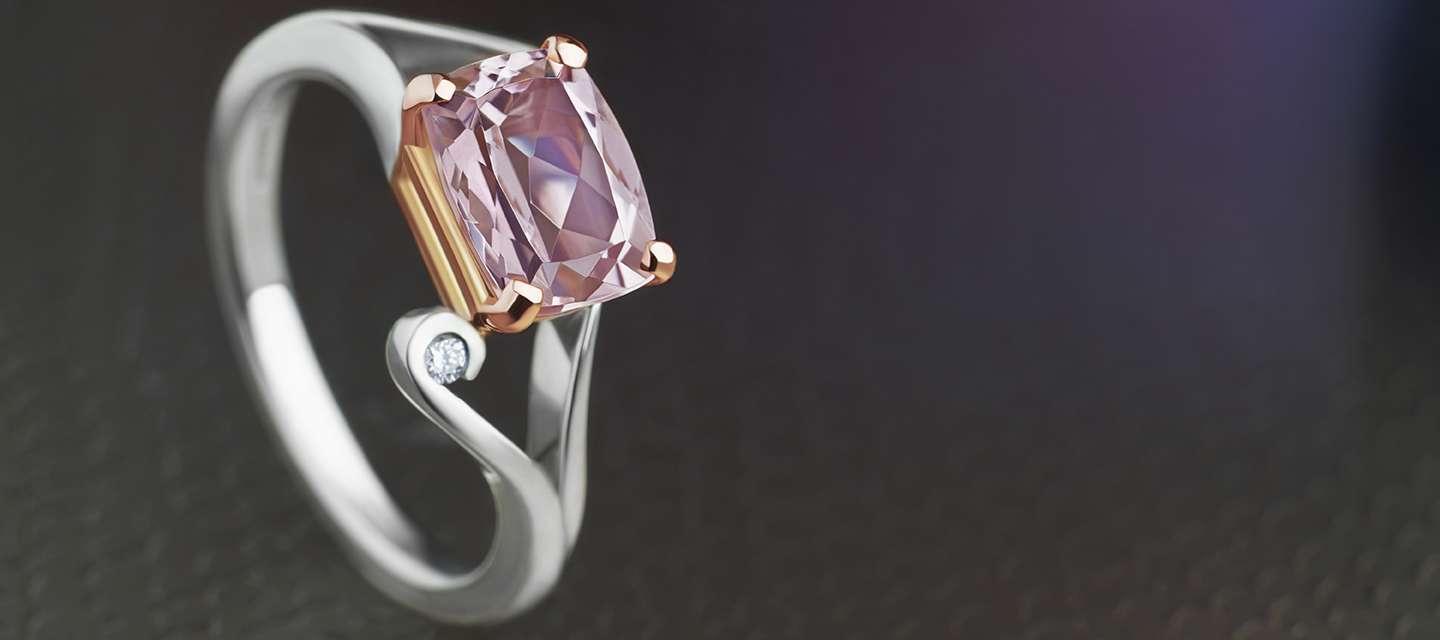 Pink Engagement Rings and Wedding Rings
So you have decided to ask your girlfriend to marry you... the thing is you're not sure what to get! Deciding on an engagement ring can be a really tricky thing... especially if you're not sure what your partner might like! 
Make sure you are observant, have a look at the kinds of things she wears; the colours, styles and types. This might give you some helpful hints for what might help her on the way to saying yes. Many people decide to go for a theme for their engagement rings; this can be an excellent way of giving your ring that little extra touch that makes it unique and personal to you. If you are going for something really romantic you could use this for your theme with ideas like a heart or flower design. If you're still plugging for a Valentine inspired design why not take your inspirations from somewhere as simple as the colour of the engagement ring?! Pink, purple and red are great colours to incorporate into your design. There are so many different gemstones that you could incorporate too!
Sapphires can be a great option if you're looking for a gemstone for an engagement ring. They are a fantastically durable gemstone with a rating of 9 on the Mohs scale of hardness (this is a measurement for a gemstones resistant to scratching out of a total of 10!). They are available in a whole range of cuts and carat weights and you can even choose a gemstone with a star effect known as asterism! And you can even source them in some lovely romantic pinks and purples! Their colour is a result of slight differences in their chemical properties, for example pink sapphires have this colour due to do the presence of chromium, whereas trace amounts of iron and titanium can create purple sapphires, whereas small amounts of iron can give the stone an unusual pink-orange gemstone known as padparadscha. Plus pink sapphires are thought to bring good fortune, so it might be the perfect gemstone for a proposal!
If lovely violet gemstones appeal to you, why don't consider having a beautiful trillion cut tanzanite gemstone incorporated into your engagement ring design? Although this gemstone does rate a little lower on the Mohs scale than the traditional gemstones used for engagement rings it is possible to be worn on a daily basis as long as the ring design protects the stone adequately. When looking at tanzanite engagement rings you will often have an all-around setting, this design is a great option to protect the gemstone. Tanzanite can have a lovely intense purpley-blue colour and looks fantastic in trillion and cushion cuts!
Although amethyst and rose quartz aren't part of the traditional group of gemstones for engagement ring designs, don't rule them out! Amethyst can be sourced in a range of colours from lilac to a deep purple known as Deep Russian. Rose quartz on the other hand is a lovely pale cloudy pink and peach colours… and if you're stuck for a visual think pink lemonade! These gemstones are better suited to more secure settings as they have a lower rating on the Mohs scale.
Or if deep reds and pinks are more your cup of tea, try to consider a few other gemstones like spinel, garnet and ruby. You could even choose something really unusual and have your engagement ring or wedding rings set with a less traditional gemstone like fluorite, morganite, rubellite, pink topaz, jadeite or kunzite… the choice is yours! Or if you'd prefer to stick to a more traditional option, don't forget you could even go for a coloured diamond!