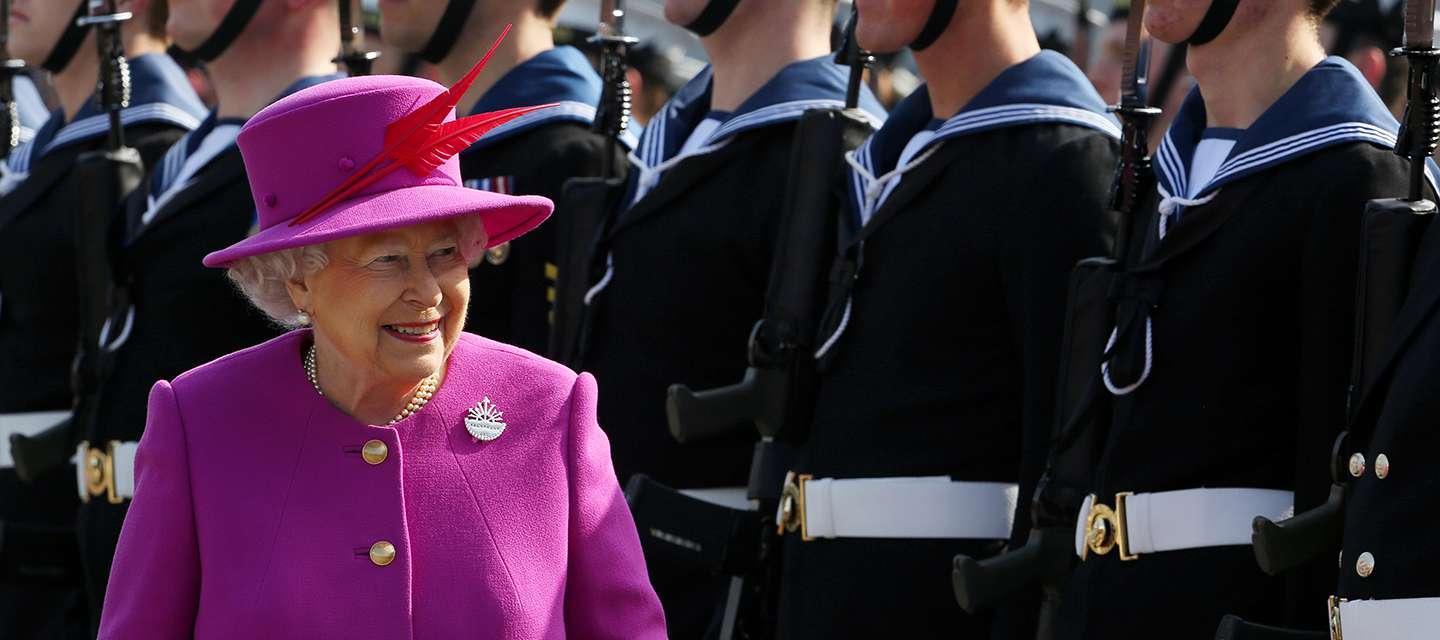 (Pictured above) The Queen wearing her gift from the Officers of the HMS Ocean - a brooch made by Harriet Kelsall Bespoke Jewellery. 
Being bespoke jewellers at Harriet Kelsall, we have had a wide variety of challenging and interesting commission over the years.  But it's a first for us to collaborate with a Royal Navy Captain and his officers to produce a bespoke piece of jewellery for Her Majesty The Queen, commemorating the Royal Visit to HMS Ocean.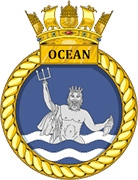 The brief was to create a gift for Her Majesty which would represent the ship but also be very wearable and we quickly settled on the idea of a brooch based on the vessel's crest. 
The trident held by Oceanus became a key part of the design and we decided that having three of them stemming from the centre of the brooch would give the design an interesting dynamic shape.  
My favourite part of the ship's badge was the circle of rope and I knew our goldsmiths would be able to create a lovely 3D rope effect inspired by it.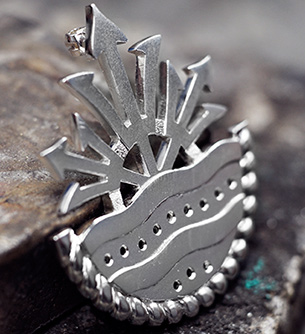 We decided to frame the waves in the lower section of the brooch with a semi circle of rope. After considering making the rope in yellow gold initially with the rest of the brooch made in white metal, we got feedback on the design sketch from the other officers: one of the female officers felt it would work best all in white metal and so we went ahead with Sterling silver, giving the brooch a lovely bright white look. We also had more feedback from the wider group of officers about whether or not to include some stones in the design. The decision was made to pave set some beautiful blue sapphires into the waves of the brooch.
Once the design was finalised the next step was to talk through the construction of the brooch with our Chief Goldsmith Richard. He was really enthused by making such a special piece of jewellery and used his extensive experience of brooch-making to ensure the pin was in exactly the right place, ensuring the brooch would sit perfectly when worn. 
The brooch was made by Richard here in our in-house workshop in Hertfordshire. Once the initial construction was completed it was over to Vic, our stone setter, to set the sapphires into the waves. Our hand engraver Lee then added the mill-grain finish and the ships motto to the back of the brooch before Bob, our polisher, gave it its final highly polished finish.  
We're very proud of crafting all of our jewellery by hand here in the UK, and being able to produce such an individual piece from a uniquely collaborative effort between the officers, the design team and the makers in the Harriet Kelsall workshop, all combining to bring the design to life so beautifully.