Bespoke 18ct white gold engagement ring
Working in the Halls Green studio, it is always very exciting to hear from the designers firsthand about individual commissions they have been working on, seeing the design come to life from the initial design consultation through the making stages and then arriving at the final bespoke piece.
After speaking with the very talented Antoinette about a design she had recently been working on for some lovely customers of hers, I thought it would be nice to share with you and to give you an insight into how a bespoke piece can come about.
The lovely couple had seen some designs on our website which caught there eye, in particular this beautiful white gold, diamond, sapphire and tourmaline sea-foam inspired engagement ring designed by Harriet.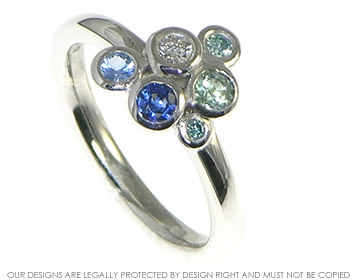 What initially attracted them to the sea-foam inspired ring were the different shades of green and blue. They were looking to find a way to combine these colours to form the basis of their own unique ring, whilst creating something that was slightly different from the traditional style.
They also loved the idea of a combined wedding and engagement ring set. Antoinette took this into consideration, talking through similar styles they may like, suggesting different ways of bringing the rings together and then turning this into a practical working design.
Ethics were particularly important in this commission with the metal preference being 18ct white Fair Trade gold. Green and blue brilliant cut Fairly Traded sapphires were used in varying sizes, along with two beautiful brilliant cut recycled diamonds. Rub over settings were used to allow the wedding band to sit flush underneath, and to keep the stones nicely protected.
Below you can see the beautiful bespoke engagement and wedding ring set that resulted from this design consultation. Why not take a look through our galleries of engagement rings to see if there is anything that might spark off your imagination to create a bespoke ring that is perfect for you.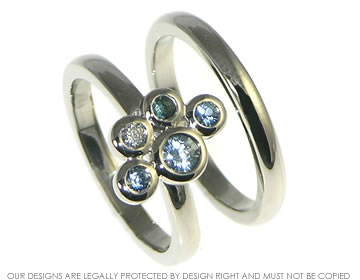 Rosalind