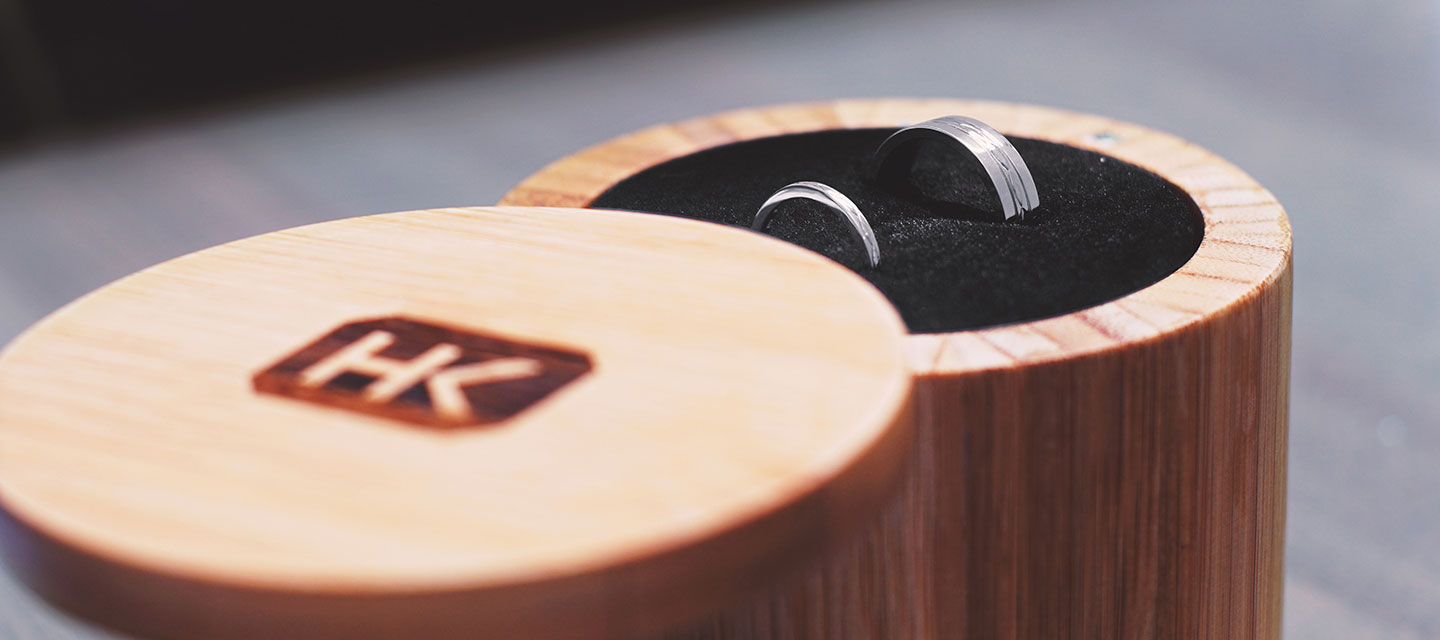 The Story of Our Packaging
The experience of opening a jewellery box to reveal what's inside is an emotional catalyst of suspense and excitement. Many of our customers comment on how beautiful our bamboo boxes are; how their lids glide open and gently lock into place by their hidden magnet.
The luxurious pouches which go inside are made from top quality velvet and satin and are available in three bright jewel colours, inspired by ruby, sapphire and aquamarine. Not only aesthetically pleasing, the thought process behind the design of our packaging makes the collection even more charming.
I caught up with Harriet to chat about her ideas behind the Harriet Kelsall Bespoke Jewellery packaging and what makes it unique to other jewellers.
After researching jewellery boxes that were offered by the jewellery packaging suppliers who supply everyone else, Harriet found that generally  the boxes looked very traditional, both in shape and colour, and none of them could be re-invented or re-used but would be kept empty and hidden away. Harriet knew she wanted the packaging to be reusable as according to the waste hierarchy reuse is always better for the environment than recycling, which is always better for the environment than disposal.
Harriet turned to Japanese salt boxes for inspiration in order to create a non-traditional jewellery box which could be used in many other ways. Made entirely from bamboo, the Harriet Kelsall Bespoke Jewellery boxes are light weight and hardwearing-particularly important attributes when posting rings to our customers. The smooth shiny surface of the box allows 'HK' to be subtly burnt into the lid to create an organic version of our logo. The velvet and satin pouches are perfect for small items of jewellery and are ideal later on when travelling with your jewellery.
Some materials, such as wool, secrete a lanolin substance which causes metal to tarnish. Harriet carefully considered the best materials to use, ensuring her choice helped to minimise tarnishing while keeping the jewellery inside beautifully clean.
In line with Harriet Kelsall Bespoke Jewellery's ethics on sustainability, Harriet wanted to ensure that the boxes would be carefully re-sourced when required- another great reason for choosing bamboo! Once the bamboo seed has been planted, it can be harvested within three years – making it the most sustainable wood available unlike other woods which require large deforestation projects.
Harriet primarily wanted to re-invent the term 'sustainable' ensuring it is no longer a compromise in return for a luxury piece but instead for something 'sustainable' to become the luxury piece itself. To remind our customers where the boxes come from, a removable sticker is placed on the bottom of each box which explains in brief the ethics and thoughts behind the packaging.
Each piece within the packaging collection is versatile and can be used for different items of jewellery, whether it's a small pouch for a delicate ring or a larger pouch for a bangle. The packaging was designed with the same thought process as a bespoke ring commission- thinking through every element of the brief and bringing something new, different and innovative. Customers are therefore offered either a presentation cushion (for the 'down on one knee moments' or pouches (great for hiding a ring in a pocket whilst travelling overseas with the intention to propose). Customers can also choose which colour pouch they like the best or which jewel shade most offsets their jewellery inside. Bespoke is all about choice and Harriet wanted to bring this aspect into the packaging too.
To help with transportation, Harriet chose lightweight outer packing to protect the bamboo box. She also carefully chose how this was designed, how easily the outer packaging came apart and how it appeared. The white outer box is made from recycled card and has also been designed to be reusable (prefect for posting something to somebody in, for example, and is left completely plain for that reason).
The idea of a 'box within a box' is the key element to the whole design, creating the ultimate experience for the customer- the unforgettable moment of being presented with a treasured piece of jewellery. The beautiful bamboo box and luxurious pouch within similarly become lifelong keepsakes, which will always remind the recipient of their Harriet Kelsall Bespoke Jewellery experience.