A brief history of the hallmark
Hallmarking has been around since the 14th century to regulate pieces made from silver and gold within the UK and protect consumers against fraud. The stamps have a rich and charming history, with many individual hallmarks having come and gone over the years!
During the Middle Ages hallmarking was regulated by local governments and was performed by assayers. In 1300, England saw the introduction of hallmarking for silver items by King Edward I which was instilled and carried out by 'guardians of the craft'. This later developed into a system which centred around the London Goldsmiths' Hall –giving its name to the term 'hall'marking.
It wasn't untill 1973 that the various laws were simplified and brought together to form the blanket Act we use today – The 1973 Hallmarking Act. This Act is much more concise and easier to understand, while still retaining the tradition of the craft.
Hallmarking is a real positive about buying or commissioning a piece of jewellery from the UK, as the strict regulations give you a guarantee as a consumer that your piece of jewellery is exactly what it says it is.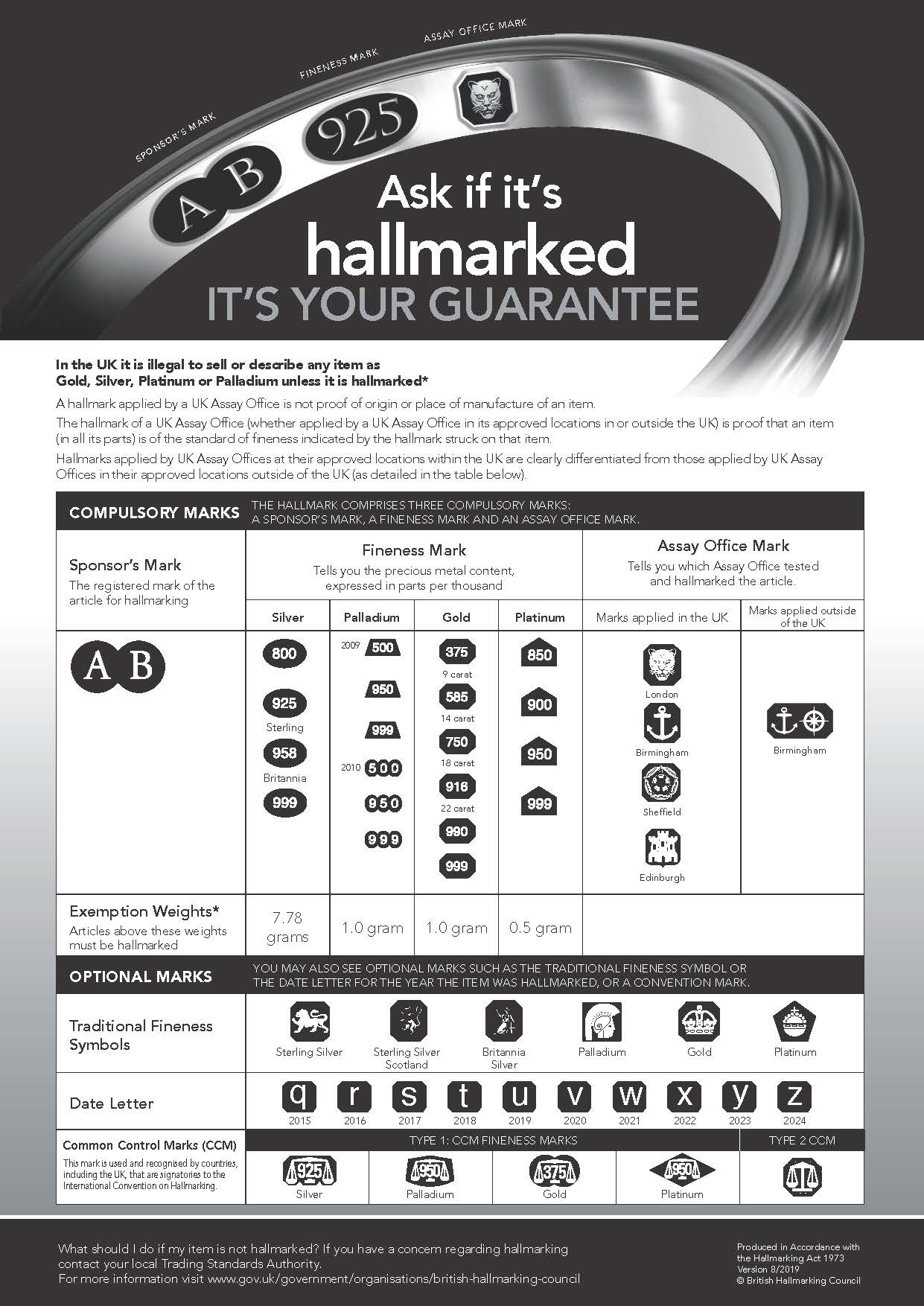 Hallmarking and HK
It is compulsory for gold, palladium, platinum and silver pieces above a certain weight to be fully and independently hallmarked before they can be legally sold in the UK.
Hallmarks, by law, have to be applied to:
Gold pieces over 1 gram
Palladium pieces over 1 grams
Platinum pieces over 0.5 grams
Silver pieces over 7.78 grams
At Harriet Kelsall Bespoke Jewellery we always go above and beyond for our customers, which is why we choose to give a full, independently applied hallmark to every piece of customer jewellery that leaves our Hertfordshire workshop.
The stamp is always carried out externally by The UK Assay Office, who 'assay' (test) every piece of jewellery in the UK, checking that it is the metal specified. If it passes the test, it gets their stamp of approval in the form of a hallmark. This mark guarantees that your piece of jewellery has been independently tested for its quality, provenance and type of metal.

 

To explain it a little better, we've broken down the hallmark in our banner image for you here:

Our own 'HK' mark is stamped first, so this ring can be immediately recognised as having been made by us at Harriet Kelsall Bespoke Jewellery. Next, you have two markings that tell you more about the type of metal used in the piece. Whether it be gold, palladium, platinum, or silver each has it's own identifiable stamp. This ring has a crown symbol , so we know it's been made from solid gold. Palladium has the helm of the Greek goddess 'Pallas Athena' as its stamp, while platinum has an orb & cross and sterling silver has a lion passant.

Now we've identified the metal itself, we need to know it's quality or 'fineness'  which comes from the numerical figure alongside the crown in this instance. This figure measures the amount of precious metal in the ring in parts per thousand, which is why the number is so high! The '375' stamp seen here is the figure for 9 carat gold; 18 carat gold in comparison is '750' because there is a higher concentration of gold in the metal.

Precious metals are often alloyed with other metals to improve their durability and alter their colours – i.e. white and rose gold. This is where a hallmark can really help, as you may not be able to identify the metal make-up of an alloyed metal so easily.

Each Assay Office in the UK has its own specific symbol so you can identify which of the four Offices this piece has been hallmarked at: London (a leopard's head), Birmingham (an anchor), Sheffield (the Yorkshire rose) or Edinburgh (a castle). London's leopard face is the stamp you will find on most of our pieces and is the oldest out of all of the Offices.

Usually at the very end of the hallmark, the letter represents which year the piece of jewellery has been stamped in, running in alphabetical order year to year, with the font changing to differentiate each decade. 2019 uses the letter 'U' so we can discern that this piece was stamped back in 2014.

In this instance, Fairtrade Gold has been used and so the very recognisable Fairtrade logo sits at the end of this hallmark, certifying that the gold used in this piece has been fairly paid for, responsibly sourced and mined. We were chosen by the Fairtrade Foundation as one of a group of the first 20 jewellers in the world to launch Fairtrade Gold and we worked extensively together with the Fairtrade Foundation on establishing the processes involved.

There are also commemorative hallmarks which are rarer, but can be seen on some older pieces – for example there are hallmarks from the 1953 Coronation and the Millenium in 2000.

 

For more information on hallmarks, have a look at The Assay Office's 'Anatomy of a Hallmark' here.