HANDMAKING VS CAD
Its a real shame but with the advent of Computer Aided Design (CAD) many of the traditional skills of goldsmithing - going back centuries - are being lost.
We are dedicated to keeping them alive through apprentice schemes and promoting the idea that traditional skills work effectively alongside new technologies. Our team of experienced goldsmiths can and do create jewellery by starting with the very basic elements - wire and sheet - and by carefully hammering, shaping and working the metal into beautiful and intricate works of art.
This isn't to say that all our jewellery is hand forged from bullion. Sometimes its more appropriate to start from a pre-cast part and add to it, or sometimes a bespoke project is just simply easier to do via CAD - it all depends on the project and finding the best way to construct it.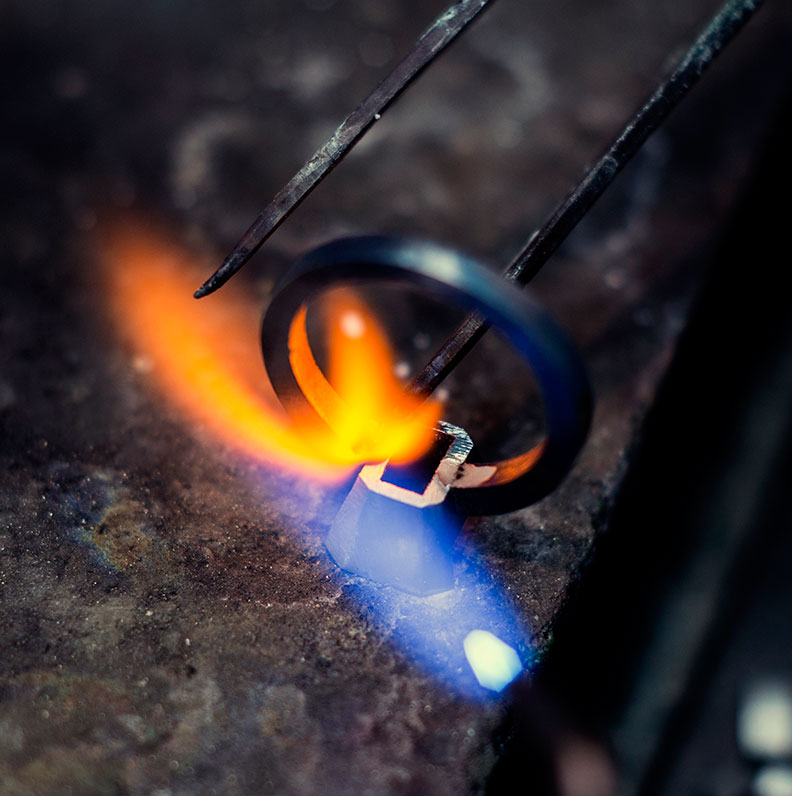 RICHARD TUNSTALL
Richard Tunstall is our chief goldsmith. He began his career as a jewellery apprentice in 1972 having left school with a passion for 'working with small detailed things'. He attended the Sir John Cass Jewellery College in London whilst working in the Clerkenwell Road area of London. Together with watch makers, goldsmiths, stone setters and many others, this area (which is just up the road from Hatton Garden) formed a strong knit community of craftsmen that Richard worked with for many years and is sad to see being lost in the modern world of mass production.
He finally left this area of London in 2002, having worked in various workshops and came to work with Harriet Kelsall Bespoke Jewellery as the chief gold and silversmith, where he is able to practice his love of individually handmade jewellery.