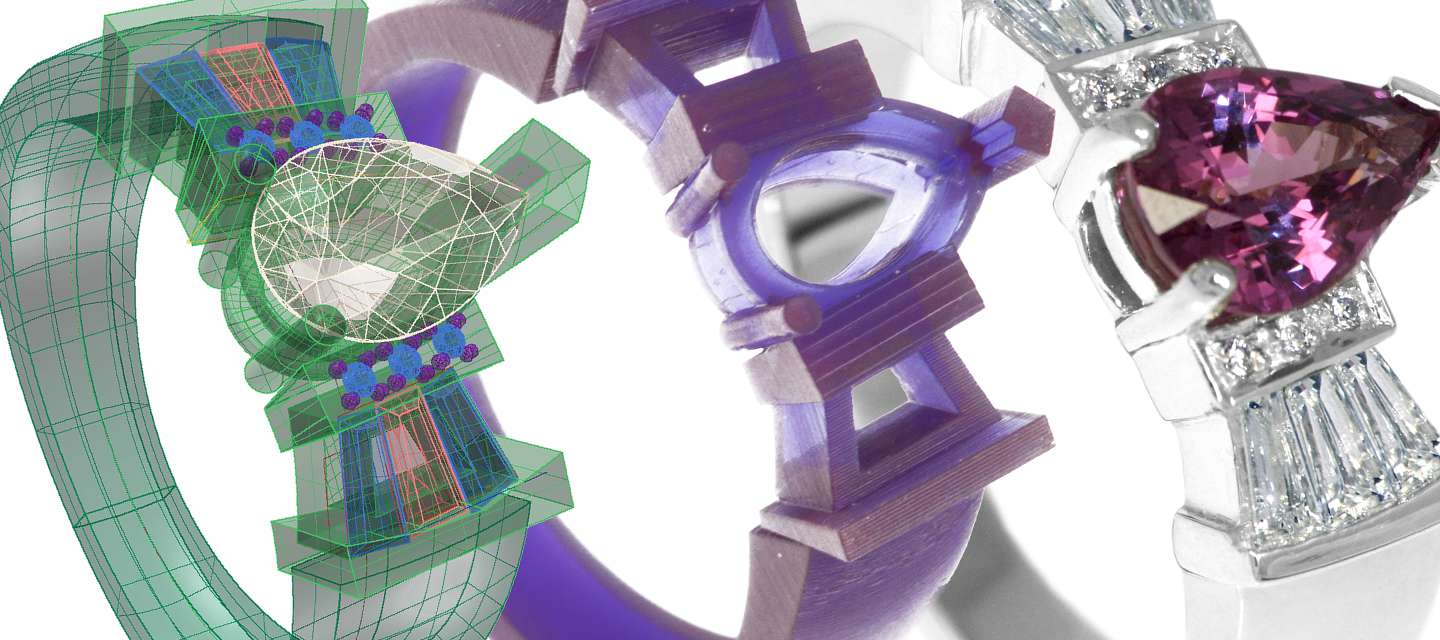 Jewellery Design Using CAD
Computer Aided Design (CAD) is a feature of modern jewellery design - I prefer to think of it as a production tool and not a design method. While some companies design engagement rings solely using CAD, these tend to be places where individuality is not core to the company's mission. They may have options from which people can choose, for example a range of band shapes and range of settings that are then joined together by selecting components to create a finished product. But the magic of design, the soul and heart of creativity stems from the sketching and human interaction we share during our consultations.
CAD is a great tool for constructing designs with multiple elements or designs that would benefit from not having any joins, that can be cast as one, but it's the hand drawings that brings the smile to everyone's faces. Because it's here, on the drawing board, that we are able to develop the concept of the jewellery, and ensure that the elements that you want to make it individual are incorporated into the design. We are not led by a computer package with predetermined options.
In its essential form, designing an engagement ring -or any other - jewellery is about taking ideas and concepts from the lives we share and capturing them in another form. We need look no further than flowers in a meadow for the design elements we see incorporated into rings, for example. Flower petals, more often than not, are arranged in groups (corollas) of fours (such as poppies) and fives (roses) and at least to the naked eyes, to a startling degree of symmetry. A central stone, surrounded by a bezel often incorporating several smaller stones, arranged in a uniform pattern, is clearly a composition derived from nature.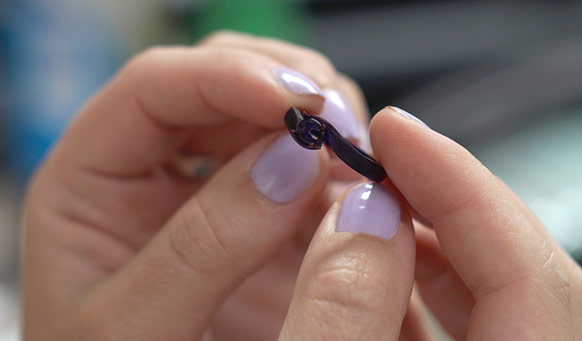 Its is possible to make almost any design using a CAD package but often the rings will be hand forged by our goldsmiths and we will only use this method of construction for certain designs. The designer will assess the design and decide whether the goldsmith will pick up their piercing saw and use the rolling mills, soldiering and hand forging the piece or Jenna our CAD modeller makes the piece on the computer.
Both 'makers' work from detailed instructions and the CAD modeller also has to know the correct thickness and tolerances as a traditional goldsmith to make the piece work not just how to use the programme to make the shape. Once a design is created on CAD the file is sent to our casting company where a resin is created of the piece, a mould is taken and then the piece is cast into whatever precious metal we require it to be in. The piece will then be hand finished and go through the same hallmarking, setting and finishing process as a handmade ring.
The casting process has its own problems, porosity can occur, which are tiny air bubbles in the metal what can then be revealed when the piece is being worked on, these can of course be rectified but with some work. Using square wire or sheet will very rarely have these problems.
While it's easy enough to model a ring on a computer and produce it on a machine, it's the subtle differences and design touches created on the drawing board first that will remind you of the cliff that rises from the beach you used to visit on your holidays with your partner, or the bough of the apple tree that sits in your back garden.