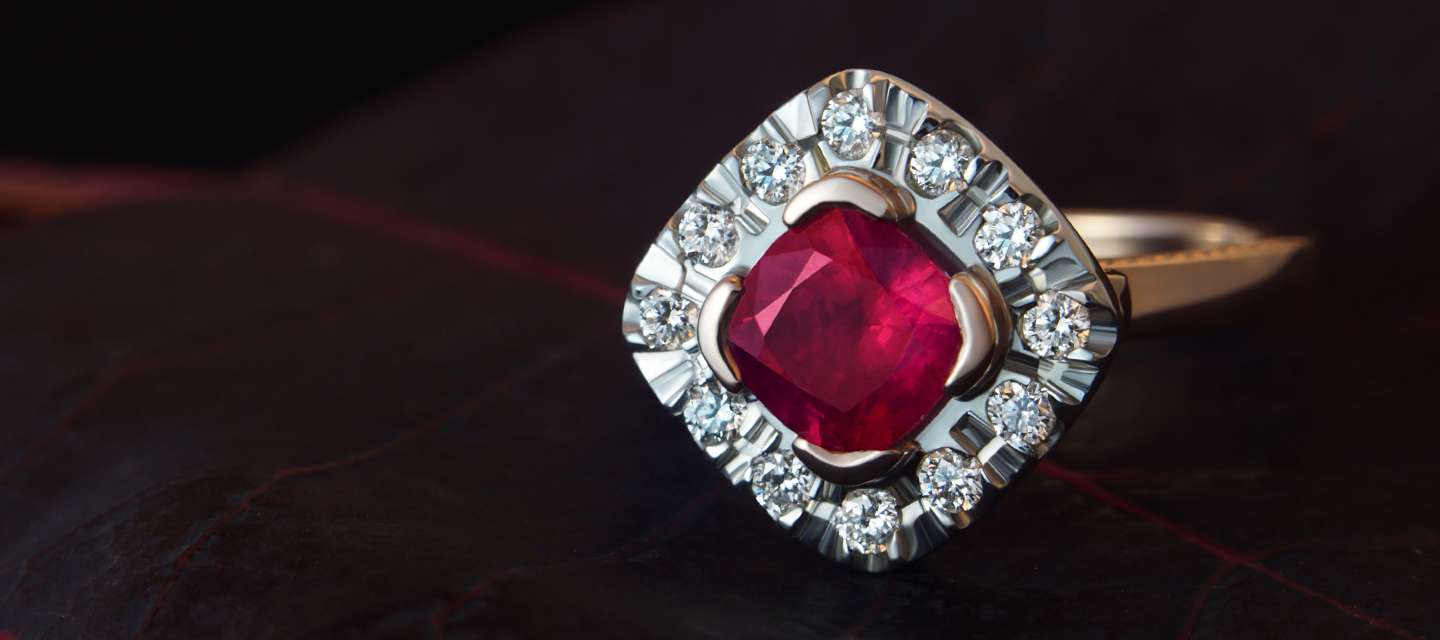 If you're looking for a colourful stone for that special engagement ring then there are lots of choices out there and here at Harriet Kelsall jewellery design we can source some beautiful interesting stones for you. Sapphire engagement rings and Ruby engagement rings however may be a good choice if you want a durable colourful stone. Sapphires and rubies are the next hardest gemstone to diamond with a hardness of 9 on the Mohs scale. There are so many rich and delicate colours for example blue, green, pink, yellow, purple, yellow and clear. A padparadscha sapphire is a stone with pink and orange coloration which is highly sought after as there is only one place in the world these come from, Sri Lanka. The most valuable sapphires are blue ones closely followed by pink and padparadscha sapphires. The image below is a good example of a very vibrant stone.
This engagement ring has a central 1.43ct amazingly beautiful deep purple/blue pear cut sapphire. This is just one example of how intensely coloured some sapphires can be as well as being extremely durable. Colour change sapphires are also a lovely choice for an engagement ring and if you are thinking of going for one then it really is best to see the stone in person before deciding on the exact one.
Here is a little background knowledge on Sapphires and rubies. They both come from the same stone family as each other called corundum. What makes a sapphire different to a ruby is essentially the presence of different chemicals within the stones. Corundum is made from pure aluminum oxide which means that as there are no impurities in the stone, it will be a lovely clear stone commonly known as white sapphire. Sapphires come in many different colours, impurities cause the variation in these. Impurities are the different chemicals that are found within the aluminum base stone creating a range of colours. Some impurities include chromium and iron. Because rubies and sapphires have different chemicals in them the chemical structure changes to giving them different layers. Rubies tend to have different kinds of inclusions (imperfections) than sapphires and in quite a lot of cases a rubies origin can be determined by looking at the imperfections within the stone. For example if a ruby comes from Myanmar (the best quality rubies) then it is likely to have these types of inclusions in the stone: rutile, calcite, apatite, olivine, sphene and spinal. The less the inclusions are visible the better and clearer the stone will be also resulting in a higher value. Some people actually like inclusions in stones as they think it gives the stone character and make it more interesting. Sapphires tend to have colour zoning and banding within them which means there will be strips of different colours visible to the eye, again some people like this affect but others don't find it a good quality for a stone to have. No matter what type of ring you are thinking of commissioning it is always best to see either a picture or in person the stone before it has been set so you can see just what qualities your stone possess. Any of our designers can advise you on what stone would be best for your requirements and would be able to chat with you about sourcing stones for your bespoke ring.