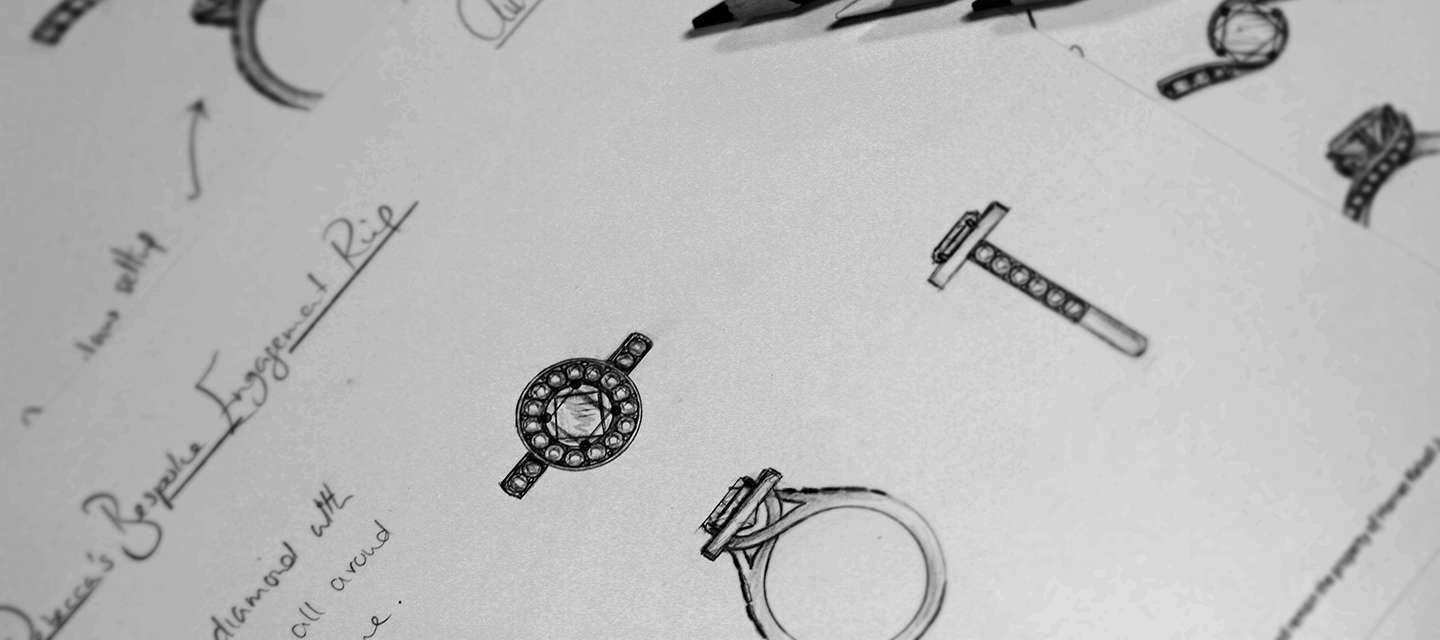 Drawing is one of my favourite elements of jewellery design, which is quite fortunate as it is also a pretty vital part of the process, particularly when doing bespoke designs for customers. I use different styles / techniques depending on the situation; such as to-scale illustrative sketches during customer design consultations to convey different design ideas, technical drawings to give the goldsmiths specific instructions on what to make, and also full-colour presentation drawings for display purposes.
In a technology-filled world, with CAD images and computer screens at every turn, there is definitely something about the art of hand drawing that still captures the imagination, and heart, of those looking for bespoke jewellery – as well as those who truly love the process of designing it.
The thing to remember about jewellery is that it can be seen from all angles (particularly when unworn), a tiny sculpture that moves with the body; and so this needs to be taken in to consideration when designing every piece. You can draw out an idea that is pretty as a 2Dimensional concept when drawn from the front, but then when you come to make the piece, the side and back views are just as important to the overall look.

I usually draw firstly from the front (top), then the side views, the back view, and last of all a perspective view (which is usually the most helpful representation for customers to fully appreciate the design in its whole, while the other views help to grasp the finer details and measurements).
Whatever view you are drawing, scale and proportion are key! You must measure every detail accurately to ensure that the design is possible to construct, and also practical and pretty. For example there is no point in designing a ring where the focus of the design is a very detailed ring shank, if you have a tiny finger size and a large central stone – as it just won't be seen; likewise, a tiny stone on a slim plain band will probably look a bit lost on a very large finger size.
I not only use drawing to show the whole piece, but also to demonstrate and explain various elements of the design to customers; drawing "zoomed-in" settings to explain how it would be constructed, or how it would work with the band, etc. For me, especially, drawing is another form of communication, a way of explaining things in a way that is more easily understood than using technical jargon; giving my customers reassurance when going ahead with a commissioned piece of bespoke jewellery. My customers know how the jewellery will look before it is made, and they usually find it exciting when we share our knowledge of how it is going to be created, bringing their ideas to life. There is further information about our design consultation process here.