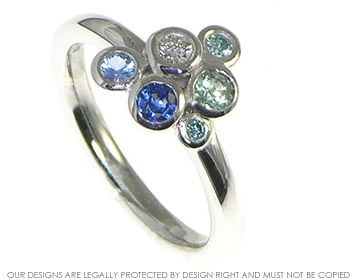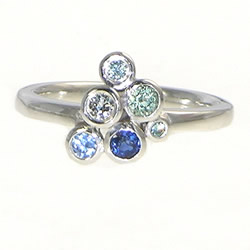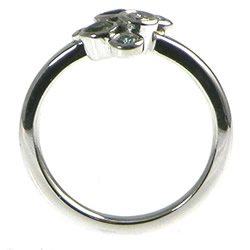 This lovely and unusual modern ring holds a 0.07cts H SI white brilliant cut diamond, a 0.11cts sea foam coloured tourmaline, 2 heat-treated sky blue diamonds totalling 0.06cts , a pale blue 0.07cts Ceylon sap and a 0.17cts deep blue ceylon sapphire.The 9ct white gold ring was inspired by bubbles in sea foam and is fun but also a practical choice becuase the different shades of blue, aqua and teal suit everybody and mean that the ring can be worn with every different colour.Each of the gemstones has been all-around set.The band is just over 2mm wide but is also nice and thick so that it is strong.The white gold has been rhodium plated.The ring measures about 11mm at the widest point across the front stone set area.See Ros's blog article on this engagement ring. The blue diamond got its beautiful blue colour when it was heated at very high temperatures and pressures to achieve this permanent colour change. Natural occurring diamonds of this colour are very rare and cost many thousands of pounds and so this treatment process brings these coloured diamonds within reach. This also means that the ring must not be heated up to very high temperatures (eg by a jeweller during resizing of the ring) so special care needs to be taken when resizing this ring in the future and the stone must be carefully removed and re-set during any future resizing work.
Enquire about this ring
This ring was a previous ready to wear unique one-off design. We'd be delighted to create something similar and completely personal to you.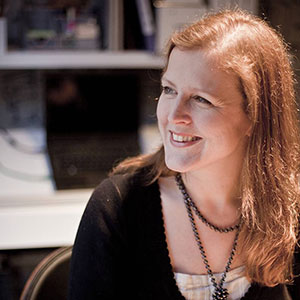 Design by
Harriet Kelsall